Center for Regulation of Relations in Financial Markets
Profiforex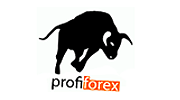 The oldest DC. Has been operating since 2006. Grew up from a professional forum for traders operating since 2002.

www.Profiforex.org
About company
Profiforex was founded by a group of traders with many years of trading experience with the aim of helping other traders to become more successful. Having started as a small forex broker, Profiforex has gradually attracted more and more traders and is now proud to provide access to the best trading conditions for traders around the world.Profiforex mission:We do more than others to make forex trading easier and more understandable. We believe that the relationship with your broker should be reliable and predictable, so we pay a lot of attention to make our activities as transparent as possible, and make every effort to ensure that all conditions are clearly indicated on our website. We understand that much of your success depends on us, and we strive to provide fast execution, best spreads, and excellent technical support
Regulation:
Profiforex clients use the financial services of a reliable and respectable broker. We insist on the highest standards so that our clients can be assured that they are trading through reliable and professional liquidity providers.